Sunset Sail with Far Away- Cancelled
August 21, 2014 @ 6:30 pm

-

8:30 pm

$42.00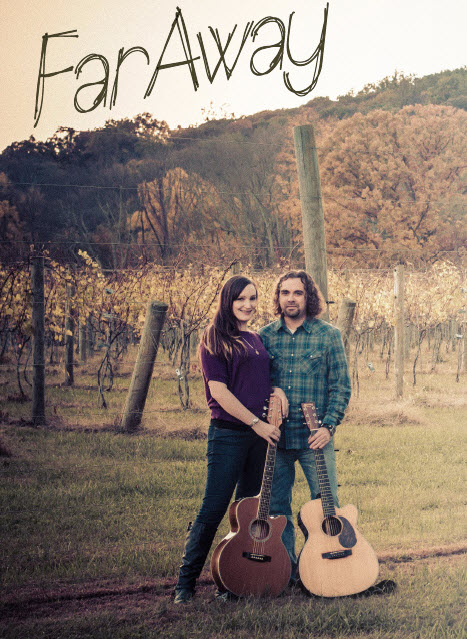 On a cold night in the middle of February, Sara Davenport and Brian Franke finally met for the first time in person. They both knew of each other through fellow music friends for several months and after talking and hearing each other play, made an instant connection. Soon after meeting they began attending one another's shows and supporting each other's music careers.
Both Sara and Brian quickly learned about the other's passion for music. As separate singer/songwriters in the Washington, DC area, they performed frequently solo and in their other groups (The 3MTs for Sara and Twelve Strings for Brian) and wrote original songs. Outside of performing, the two were involved in music in other ways—Sara as a music teacher at an elementary school and Brian as a host of an open mic night as well as doing social media for other musicians. Music was constantly engrained into their daily lives and when they weren't performing or pursuing other music endeavors, the two enjoyed sharing music with one another and going to live shows.
Before Sara and Brian even sang a song together, the relationship between the two grew stronger through more than just music. After both endured a very rough and challenging 2011, Sara and Brian fit together naturally, helping each other find themselves and get through their recent rough patches. They quickly realized they were falling for each other and becoming inseparable in their everyday lives.
It was not until August that an opportunity came along for Sara and Brian to play together. Much like their relationship, playing together came very naturally. Their voices blended incredibly well and even having only practiced a few hours, received warm responses from the audiences they played to. On stage they energize each other by being playful, passionate,and have impressed audiences at such venues as the Hard Rock Café, The Hamilton, Jammin Java, Iota, and many other others.
Since their first performance together they were hooked performing with each other and decided to officially start a duo together, calling themselves FarAway. Playing both cover songs as well as original music, the two began writing together in December 2012 and are currently recording an EP and planning their 2013 Summer Tour.