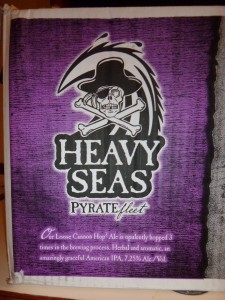 It started out as a very light wind day today but increased as the day wore on. We were supposed to match race against the other boat on our 1st sail but the wind did not cooperate.
On the 2nd sail the wind filled in nicely and we had a great sail as we did on the 3rd sail of the day.
The 4th sail of the day (the sunset) is always the best. No matter how long of a day I put in it is always a very relaxing time of the day to be out on the water.
As everyone knows that comes out with us on Tuesday's sunset sail on a regular basis, this is our local beer tasting cruise each week. This month we are featuring our Heavy Seas beers.
Terry from Heavy Seas is a great host and enlightens us all on how the excellent beers are made. Of course we have done a lot of market research in this area and can help anyone out if they have any questions.
A good breeze….Good Beer ….And new friends, and to top it off a great sunset.