Tickets on "Sail" Now for these Special Anniversary Cruises
To celebrate our 25th Anniversary, we have lined up these very special events for you to book now in anticipation of this week of celebration. Visit our Ship's Store for special 25th Anniversary Merchandise: polos, ladies shirts, pins, keychains and more!  Ship's Store
Monday, June 4: 6:30-8:30 pm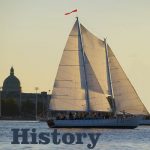 History of the Schooner Woodwind from Dream to Reality with John Scarano and Ken Kaye
25 years ago, Ken, Ellen, and Jennifer Kaye had a dream realized with the building of the Schooner Woodwind at the Scarano Boat Yard, the second schooner Scarano built. Listen to the Naval Architect and Designer of the boats talk with Ken Kaye about how they decided upon the hull design, sail plan, functionality and proportions of the Woodwind. John Scarano will talk about the beginning days of his family's boatyard, and how it has grown to build more and more certified USCG vessels for entrepreneurs across the country. This will be the first time since Woodwind II was finished, that they will be in a relaxed atmosphere to reminisce about the dreams they both had 25 years ago and where they are now.
Buy Tickets Now- History Cruise
Tuesday, June 5: 6:30-8:30 pm
25 Years of Suds and Sails featuring Hugh Sisson of Heavy Seas Brewing Company (Beer Tasting Cruise)
On the 25th anniversary of the Woodwind, we will be discussing the past 25 years of beer making in Maryland and how it has changed by one of the founders of the craft beer movement in Maryland, Hugh Sisson.  Includes a tasting of a 4 oz. pour of three different Heavy Seas beer. Come reminisce with us while sailing a 74-foot schooner.
Buy Tickets Now- Beer Tasting Cruise
Wednesday, June 6: 6:25-8:30 pm
Wednesday Night Racing SPECIAL: Captain Ken is back to race against his daughter, Captain Jen!
Join the crew and race Woodwind vs. Woodwind II every Wednesday night, but this one is extra special. Captain Ken retired 2 years ago and is coming back to challenge his daughter in a fun and competitive race.  130 other sailboats are also racing in the Wednesday Night Regatta. Wednesdays are the nights to Party Like A Sailor which includes a free rum cocktail at the Boatyard Bar and Grill after the cruise.  Our cash bar is stocked with wine and beer, including a nice selection of local craft brews and rum punch.
Tickets for Captain Jen (Woodwind) on sale May 24
Buy Tickets Now- Woodwind II (Captain Ken)
Thursday, June 7: 6:30-8:30 pm
Thursday Night Music Cruise featuring Crab Alley Lite
Crab Alley founders Jeff Holland and Janie Meneely will join up for a Woodwind cruise and regale the crew with their original songs of the Bay and beyond. Serious or saucy, their songs shed light on recreational boating as well as Chesapeake traditions here on the Bay. This duo has been singing on the Woodwind for 25 years! Sometimes with each other, sometimes with other great musicians, but we are delighted to get them out together for a wonderful night of memories.
Buy Tickets Now- Music Cruise
Friday, June 8: 6:30-8:30 pm
Love on the Woodwind!
Did you find love on the Woodwind?  Meet your perfect first mate?  Perhaps you got engaged or married aboard one of our cruises?  Is Woodwind your favorite place to celebrate your anniversary?  Or maybe you just love to sail aboard the Woodwind.
If any of this describes you, be sure to join the Woodwind for this special sail celebrating love!  We will have plenty of bubbly aboard for you to toast that special someone!
Buy Tickets Now- Love the Woodwind Cruise