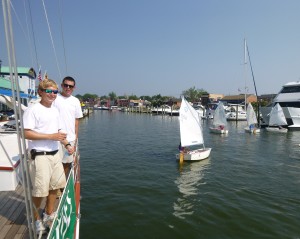 Our boats live at the mouth of Ego Alley, one of the busier intersections in town.  We see it all go down: cruisers making a dinghy run for ice cream cones, fishermen triumphantly returning for cold beers, backflips off of moored boats, stand up paddling with a dog, runabouts styling and profiling in their summer mating ritual, cigarette boats vibrating the tables at Pusser's, remote controlled alligators- it's all happening!  This morning we were treated to a fleet of Optis short tacking Ego Alley.  What a cool sight seeing a fleet of young sailors cruising this legendary fairway!
While rigging Woodwind for a day of sailing, we were getting excited about leaving the harbor and getting out into the cooler breeze on the bay.  The morning was steamy!  We watched with envious eyes as the M/V Lady Sarah depart her slip on City Dock.  She was full of kids enjoying the climate controlled comfort of her first deck.  Our crewmate Andy noted that the air condition in the wheel house was so cold that the Captain was running the windshield wipers due to the condensation buildup on the outside of the window!  Still, we knew we were in for a treat today- a building southerly breeze ahead of the cold front! Not much beats that in our book!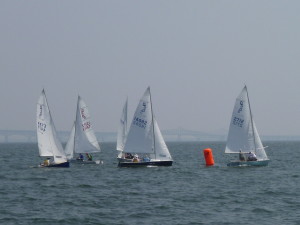 We had some very fun people aboard for a private charter.  We took them out to the bay and checked out some of the action of the Daysailer North American Championship.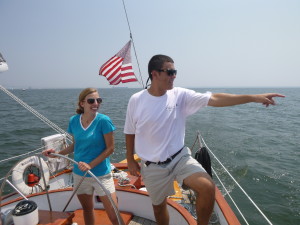 Kimberly took the helm, while Sam spotted a barrel adrift on the bay. We speculated what it contained: Spices! Cats?! Brackish water? We may never know.
Kimberly's co-worker, a Moe (sp?) like me,  took the helm too.  She got the boat moving pretty fast!  It felt good to let our hair down in the cool breeze.