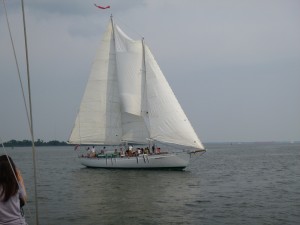 I think almost every time you mention the word Regatta the winds head the other way. At least that is what I am blaming the lack of wind on. Thisweekend is the Annapolis Race Week Regatta and I feel for all those people out there drifting around with out any wind.
Hope fully today will bring you better winds and good racing.
We had 4 sails(motors) today. The 1st two we ended up motoring the entire time, but everyone was just enjoying being out on the water which was great.
On the third sail the wind picked up enough for us to sail for most of the trip, but by the time the sunset rolled around it had dropped again.
I have been faithfully doing the wind dance all evening and morning so hopefully we see a change in the winds for today.