Experience an 'America's Cup-style' match race while watching from aboard the boats!
Enjoy all the thrills and excitement of a real match race between two of the Chesapeake's fastest sailboats while relaxing as an on-board spectator! The Crew Match Race pits Woodwind vs. Woodwind II in an America's Cup-style race, with our professional captains and crew in control.
Top-notch sailing, awesome social experience!  Experience the true performance of our fantastic yachts, and revel in the teamwork and coordination of the crew. Crew Match Races are super competitive, offering guests a rare chance to see a true big-boat match race firsthand! Learn about race tactics, strategy and crew teamwork as the boats sail around the course! This trip is ideal for groups who want to experience the excitement of a match race and observe outstanding teamwork in action, with a less hands-on and intensive sail training program. We can accommodate up to 96 people on both boats; an excellent opportunity for larger groups to experience the thrill of sailing in a real match race, while enjoying a great social atmosphere!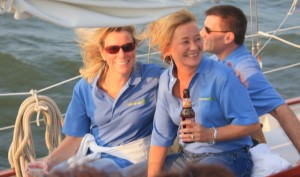 Celebrate Your Success!
Woodwind specializes in making your trip truly unforgettable! We have several additions to our team building programs that will make your trip truly unique!
End your race with a crab feast at Jimmy Cantler's Crab House!
Indulge with a beer, wine or our fruity specialty drink!
Enjoy a champagne toast at the race's conclusion!
Call Our Staff to Plan Your Crew Match Race! 410-263-1981