Black Ankle Vineyards Dinner Cruise
September 8, 2019 @ 5:30 pm

-

8:00 pm

$113.00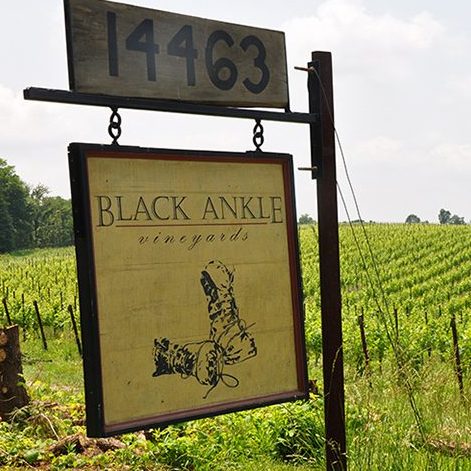 Captain Jen fell in love with this winery's location, wine and people that work at Black Ankle Winery.
Black Ankle Vineyards is the culmination of a long-time dream of founders Ed Boyce and Sarah O'Herron (that's us). They believe that the central Maryland Piedmont, sitting at the foothills of the Appalachian Mountains, has the right mix of rolling hills, rocky, low-fertility soils, regular breezes, sunshine and rain to be the home of some truly delicious wines — wines that express the land in which they are grown, enhance the food they accompany, and most important of all are a joy to drink.
Estate Winery: "In pursuit of making great wine, we are fully committed to being an estate winery – every grape for every bottle of wine that we produce is grown on our farm and always has been.  The quality of a wine is determined first and foremost by the quality of the grapes that go into it, so we take our farming very seriously. (OK, that is just a nice way of saying that we are control freaks – we admit it)."
Sustainability: "We are also big believers in making use of the resources that we have and taking care of those resources so they will continue to be available down the road.  To that end, we spend a great deal of time doing what we think of as farming the soil – making sure that the microbial life in the soil has a good mix of air, water and nutrients so it can create a healthy environment for our vines."
Schooner Woodwind's Dinner Cruises are a very casual affair. Courses are served picnic-style and food is presented chilled or at room temperature. You will thoroughly enjoy the event aboard. We really do sail, so wear soft soled shoes. And please, feel free to raise the sails, steer the boat, or sit back and relax.
Departs from Annapolis at 5:30pm and return at 8:00pm.  Tickets are $113 per adult and include dinner and taxes, 4-ounce wine pours for first three courses, 2-ounce wine pour for fourth course, and unlimited soda and water. Includes a take-home, boat friendly, wine glass by Go Vino with the Woodwind's logo on it.  Maximum 35 guests.
Menu:
2017 Viognier:  Peppered Smoked Bluefish, Golden and Red Beets, Goat Cheese, Walnut Oil
2017 Albarino:  Grilled Shrimp Salad, Corn, Cilantro, Crispy Leeks
2016 Crumbling Rock: Peppered Venison, Smoked Pork and Potato Salad, Micro Greens, Gorgonzola Mousse, Pomegranate Reduction
Terra Dulce VII: Persimmon Pudding Cake, Terra Dulce Soaked Raisins, Vanilla Bean Whipped Cream