We had a great day sailing Thursday and beat the heat by staying on the water all day. The breezes were light but we were able to avoid using the dreaded 5th sail, the D-Sail (our trusty diesel).
Our 1st and 3rd sails had about 20 people apiece, our 2nd sail had one couple from Fl. that was treated to a private cruise. It was nice!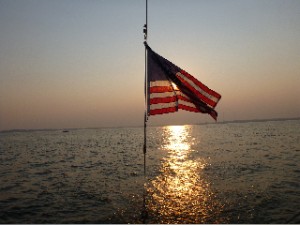 Our last cruise was a private charter and we had a little better wind starting out but it was dying as we came in. We did a great sunset though and saw a couple of car carriers heading under the bridge and out of the bay.